NAS Data Recovery V4.00
NAS Data Recovery
English (1.8 MB)
Recovery for XFS- or EXT-formatted NAS devices, e.g. Buffalo, Seagate, Western Digital, DLink, or Iomega. Supports single-drive, RAID-0, RAID-1, and RAID-5 configuration

File Size: 1.8 MB
Price: $99 USD - Buy Now


Free Updates: Lifetime updates
System Requirements: Pentium Processor - 1 GB RAM
Windows 95, 98, ME, NT, 2000, XP, 2003, Vista, 2008, Windows 7, or Windows 8, Windows 10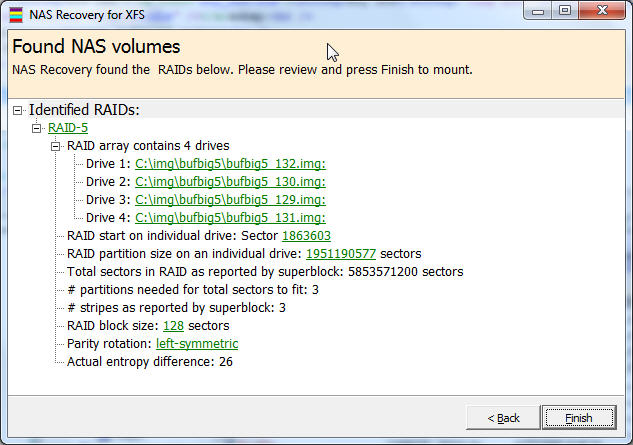 Product Highlights
Recover XFS- or EXT2/3/4-formatted NAS devices, such as Buffalo, Seagate, Western Digital, DLink, or Iomega, within minutes
Supports single-drive, RAID-0, RAID-1, RAID-5 configuration
No other software needed

Finds NAS RAID parameters, such as start sector, stripe size, rotation, and drive order automatically
Easy to use wizard, no user input required, fully automated recovery
Run from the Runtime Live CD or a WinPE boot CD-ROM
Network Attached Storage (NAS) Recovery Software
NAS Data Recovery recovers the entire content of your broken NAS within minutes. You will be able to copy the files and folders over to another disk.
NAS Data Recovery works for all XFS- or EXT-formatted single-drive, RAID-0, RAID-1, or RAID-5 NAS stations from manufacturers such as Buffalo, Seagate, Western Digital, DLink, or Iomega.
Remove the drives from your NAS station and attach them locally to your machine. Make sure the drives are all recognized by Windows Disk Management. If you are trying to recover a RAID-5, it is Ok to attach one drive less than the total number of drives in that NAS. NAS Data Recovery also works with images of your drives.
Install NAS Data Recovery to your computer and start the program. In Vista and above you need to right-click the program icon and select "Run as Administrator".
A wizard will guide you through the recovery. A couple of minutes later, an Explorer-like window will show all recoverable files and folders. Now you can copy your files over to another disk. You can also view many file types before copying them, e.g. pictures, documents, etc.
NAS Data Recovery is easy to use. It automatically finds all parameters needed for the recovery, such as RAID start sector, stripe size, rotation, and drive order. Everybody is now able to recover his own NAS. No data recovery background required. No need to buy any other software.
Watch our YouTube tutorial.
Supported NAS devices:
All Buffalo, DLink, Seagate, Western Digital, or Iomega NAS devices configured as single-drive, RAID-0, RAID-1, or RAID-5
XFS- or EXT-formatted NAS devices from other manufacturers
NAS Data Recovery additional features:
A file viewer, which allows you to see the content of almost any file
A search function, which enables you to do extensive search for containing text or files
Run NAS Data Recovery from the Runtime Live CD or a WinPE Boot Medium
Other RAID recovery resources
If you want to recover a Windows RAID, check out our RAID Recovery for Windows software. For other kinds of RAIDs see our RAID Reconstructor software. If you need help with an exotic RAID, check out out RaidProbe service.